Chief 12" Fixed Pipe, CMS012 Black
Product description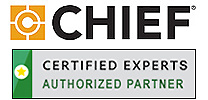 CMS Speed-Connect Fixed Extension Columns can be used with any 1 1/2" NPT accessory to lower projector to desired height.
Consists of 1 1/2" NPT column threaded on both ends.
Includes integrated port on one end for routing cables (only on 9" and greater sizes).
Various lengths from 3" to 6'.
Available in Black or White.