Wattbox IP Power Conditioner with OvrC Home|12 Controlled Outlets, WB-700-IPV-12
Product description
Will be Replaced  WB-800-IPVM-12 !!!!
WattBox® IP Power Conditioner with OvrC Home | 12 Controlled Outlets
Power is at the heart of every install, so choose a conditioner that does it all. This WattBox features 12 IP-enabled, individually controllable outlets which can be rack mounted at virtually any angle for complete customization. It also provides three lines of defense – Self-Healing Auto Reboot, OvrC Home, and OvrC – to fix problems and prevent truck rolls. Add in robust surge protection and a dealer-centric smart outlet design, and you have a power conditioner built for every job in the queue.

Three Ways to Prevent Calls & Truck Rolls
This WattBox provides three lines of defense to fix problems, reduce service calls, and prevent truck rolls. Combine WattBox's scheduling and auto-reboot feature with OvrC Home and OvrC remote management, and you have an iron-clad power conditioner built for integrators. Simply put, no other remote management system comes close to what WattBox and OvrC can do.
Self-Healing Auto Reboot
WattBox power conditioners are uniquely designed to fix themselves without any outside intervention, helping to prevent service calls and dealer troubleshooting. The unit continuously monitors connectivity; when the connection is lost, automatically reboots the troubled device as programmed. You can even schedule regular reboots through the local UI or OvrC platform.
Client-Facing App
OvrC Home is a free client-facing mobile app included with all WattBox IP products that allows your customer to fix small problems on their own. Through this intuitive app, they'll be able to reset any device connected to individual WattBox outlets and use macros to execute a series of commands that you define. If for some reason customers still need to reach you, your company logo and contact information are easily accessible within the app.
OvrC Remote Management
Through an easy-to-use desktop or mobile app, you can reboot devices, modify configurations, update firmware and more – all from anywhere in the world. Plus, if a WattBox falls offline, OvrC provides you with a detailed notification so you can address the issue before your customer even notices. Upgrade to OvrC Pro, and you'll get access to even greater diagnostics and troubleshooting tools across all OvrC-enabled products.
Surge Protection
From Noise Filtration to 6480 joules of surge protection, this professional-grade WattBox is engineered to protect critical equipment on the job. Safe Voltage protects gear by automatically disconnecting it during unsafe voltage conditions, while ceramic-encased MOVs prevent components from catching on fire when taking a surge hit.
Mounting Flexibility
Stop struggling to reach outlets. Whether you need it up, down, angled, or recessed, the WattBox back-of-rack design provides almost limitless options. Turn the included bracket around to easily mount it in the back of a cabinet or on a wall. Or face the bracket down, apply the included feet, and you can quickly secure it to a shelf or the top of the cabinet. The possibilities are endless!
Smart Outlet Design
Bulky wall wart power supplies can get in the way and create install headaches. That's why WattBox outlets are spaced out and turned 180 degrees, so each one can be used. We even include tie-down straps and a locking IEC cord to keep everything in place.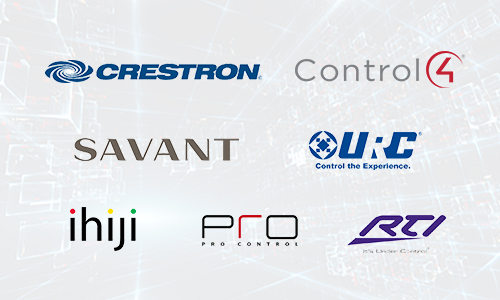 Control Integration
This WattBox is compatible with the industry's most popular control systems; refer to the support tab for available drivers and usage guides.
Complete Customization
A wide range of add-ons and accessories lets you customize your WattBox to fit specific job needs. Use the optional WattBox faceplate to add a front display wherever you want, regardless of outlet location. You can even give customers the power to reboot pre-defined outlets with a single press of the WattBox Momentary Trigger.
Optional UPS Battery Pack Add-on
Pair your unit with a WattBox OvrC UPS Battery Pack, and you can safely back up all your equipment in case of power failure. You can even manage the unit remotely and receive battery health notifications via OvrC. Visit the kit Product Page for more details.
5-Year Limited Warranty & Replacement Policy
This WattBox® product has a 5-Year Limited Product Warranty and a 5-Year Network Connectivity Warranty. The 5-Year Limited Product Warranty includes parts and labor repairs on all components found to be defective in material or workmanship under normal conditions of use. This warranty shall not apply to products that have been abused, modified, or disassembled. Products to be repaired under this warranty must be returned to Snap One or a designated service center with prior notification and an assigned return authorization number (RA).
5-Year Replacement Policy
Valid only in the United States and Canada. If your WattBox surge protector becomes damaged while protecting your connected equipment, you may request an equivalent replacement to the latest technology of that product category. Keep a copy of the original invoice to verify the date of purchase the by the original buyer.