Esoteric C-03 Xs Preamplifier
Product description
A Legacy of Consummate Purity & Perfection
ESOTERIC's new C-03Xs preamplifier carries on the refinement of the 02 series' superb quality of musical reproduction, which stand as a Grandioso legacy. Their minimalist approach to the consummate purity of sound returns to the vey source of audio component design to give birth to a rich new range of musical experience. Hand-assembled one-by-one in ESOTERIC's Tokyo factory, each unit combines the most advanced techonologies wiht an unprecedented level of draftsmanship to give life to a preeminent philosophy of sound appreciation, from which a timeless new standard is born.
At the heart of every fine system, it is the preamplifier that determines one's ideal sound. Applying Esoteric's wealth of knowledge and technology, the C-03Xs carries forward in continuous succession the Grandioso lineage of high fidelity and breathtaking powers of musical expression, drawing on the refined sensitivities of musicians and engineers alike to transcend the boundaries of sound reproduction quality.
Audio expression, symphonic beauty, artistic passion, the concert hall's spatial feel, the excitement of the audience. Esoteric's Master Sound Works is an audio product concept that recreates all of the music information in original master recordings with the most state-of-the-art technology available today.
Independent Dual Mono
The C-03Xs' DC power supply features a fully independent dual mono design that completely eliminates inter-channel interference. Its dedicated array of power transformers for each channel also blocks noise from the power line, enabling a pure, naturally amplified sound. Grandioso technology reveals itself in such detailed new design refinements as its independent left and right channel power rectifier circuits and its carefully laid out power supply circuit boards, which further contribute to the C-03Xs' superb sound quality.
Fully-Balanced Configuration Provides Excellent S/N Ratio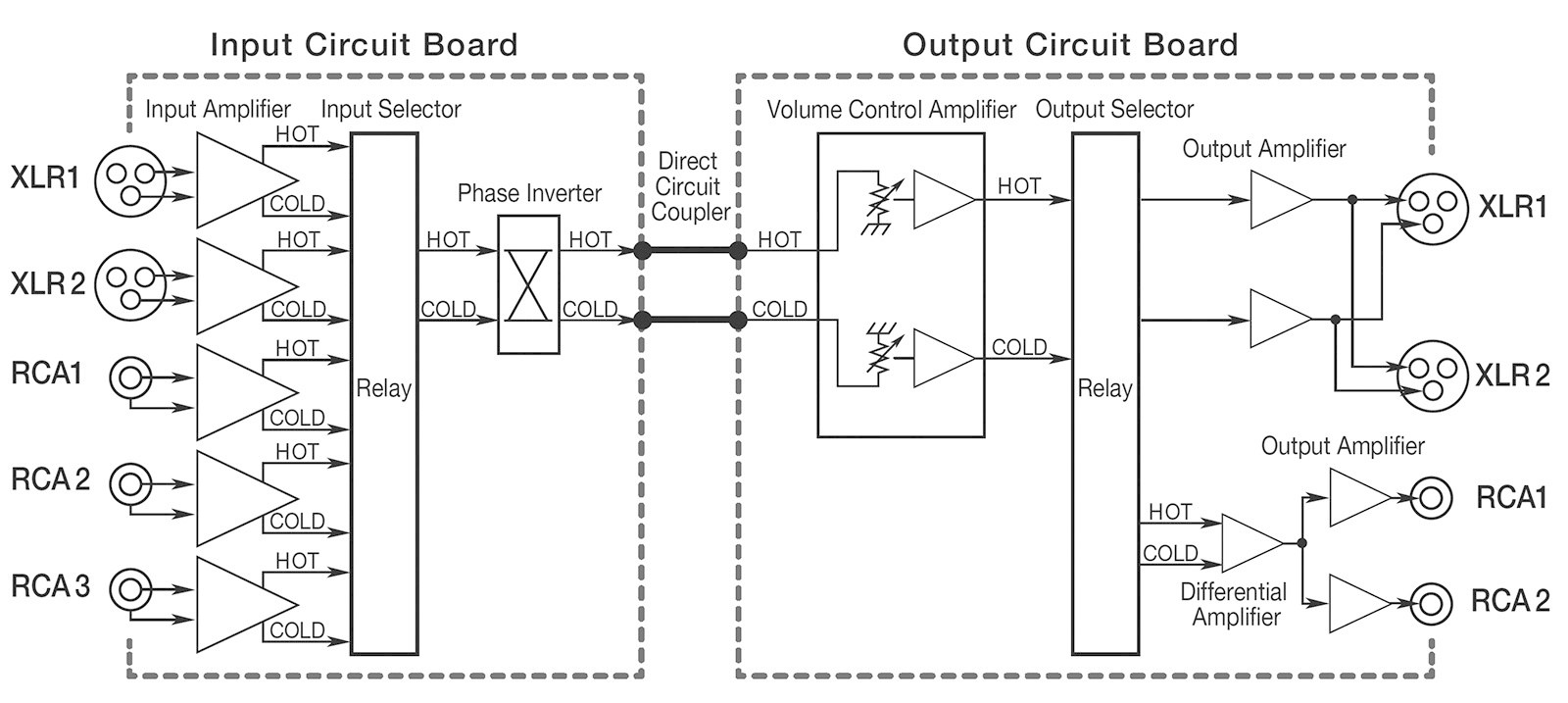 Esoteric-QVCS
The C-03Xs' Esoteric-QVCS* volume control employs four precision switched resistor ladder networks, which change in unison as the volume knob is rotated. This arrangement allows the signal paths for the left and right channels and their positive and negative phases to be kept totally independent and as short as possible. Consequently the sound has superb clarity, excellent channel separation and highly accurate phase characteristics. The elimination of audio board wiring to the volume control further contributes to a reduced signal path, while preventing degradation of sound quality and helping to maintain the low distortion one would expect of a reference model.
* QVCS: Quad Volume Control System
Ultra-Low-Noise Logic Control
Built into the front panel, the logic control section is totally isolated, both physically and electronically, from the preamplifier module by way of an optocoupler. To assure low-noise operation, it also shuts completely down when not in actual operation, thus eliminating all possible influence on the C-03Xs' audio circuitry.
Highly Responsive Low-Noise, Low-Impedance Power Circuit
Three independent high-capacity power transformers, coupled with large banks of reservoir capacitors, provide power supply circuits that have exceptionally low output impedances and very clean and stable outputs. High-speed rectifier circuits further enhance resolution and the signal-to-noise ratio for significant improvements in sound quality.
Esoteric C-03 Xs Preamplifier User's Manual
Specifications
Analog Audio Inputs

 

XLR:

2 pairs

Input Impedance:

10k Ω ( Line )

Input Sensitivity

 

At Rated Output:

510 mV

At 800 mV Output:

200 mV

Maximum Input Level:

12 Volt

RCA:

3 pairs ( RCA 2 can be used as an AV pre-input. RCA3 can be changed to PHONO input with version-up service. )

Input Impedance:

10k Ω ( Line )

Input Sensitivity

 

At Rated Output:

510 mV

At 800mV Output:

200 mV

Maximum Input Level:

12 Volt

Analog Audio Outputs

 

XLR:

2 pairs

Output Impedance:

100 Ω ( Line )

Rated Output:

2 Volt

Maximum Output Level:

15 Volt ( 1k Hz, 0.003% )

RCA:

2 pairs

Output Impedance:

47 Ω ( Line )

Rated Output:

2 Volt

Maximum Output Level:

7.5 Volt ( 1k Hz, 0.003% )

General Power Supply:

 

 

AC 230 Volt, 50 Hz

 

AC 120 Volt, 60 Hz

 

AC 220 Volt, 60 Hz

Power Consumption:

19 Watt

External Dimensions:

( W ) 17 ⅝" × ( H ) 6 ½" × ( D ) 18" ( including protrusions )

Weight:

61 ¾ lbs

Included Accessories:

Power cord × 1
Remote cotrol ( RC-1301 ) × 1
AAA batteries × 2
Felt pads × 4
Owner's manual × 1
Warranty card × 1
Audio Performance
Frequency Response:

1 Hz to 200k Hz ( –3 dB )
3 Hz to 50k Hz ( –0.2 dB )

S/N Ratio:

116 dB ( 2 Volt input, A weighted )

Total Harmonic Distortion

 

XLR:

0.0004%

RCA:

0.0006%

Gain:

+12 dB
$14,000.00