Luma Surveillance Surveillance 510 Series NVR's
Product description
Luma's 510 Series NVR offers powerful all-around performance and features, including support for higher resolution cameras up to 12MP, 4K TV output, Smart Search capabilities, and long-distance PoE. Its superior PoE capability enables you to create up to 250m runs from the NVR to a camera, as well as the ability to reset individual ports! For additional install convenience, use our free LumaLink remote access service to eliminate less secure port forwarding and DDNS setup, synchronize and manage your devices via OvrC, and so much more.
Important Notice - With an update to firmware to V3.4.95 build 191127, there is support for plug-in free browsers ( e.g Chrome, Safari, Edge ).

                                                                Intuitive User Interface
Our lightning-fast, responsive user interface is popular with installers and end users alike. Rewind and fast forward, pause, take a snapshot, playback, and zoom to your heart's content. All of these options are easily controlled with a tap or a swipe in our simple, clean UI.

                                                                        Dedicated App
iOS or Android, Luma™ has you covered. Our Luma app is built using the same intuitive user interface design, built for mobile devices so you can check on what matters, providing peace of mind – anytime, anywhere.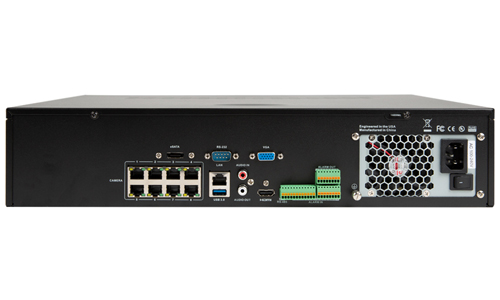 Customizable HDD Storage
The 510 Series also offers a "no-HDD" option to give you maximum flexibility on the job. Customize your recorder storage capacity however it makes sense for you and your client!
                                                         Supports Cameras Up To 12MP
The 510 Series NVRs support cutting-edge camera resolution, as demand for higher-res imaging continues to grow. Each recorder is compatible with cameras up to 12MP.
                                                          Deep Control Integration
Our dedicated drivers control the NVR's on-screen GUI navigation through the HDMI output. All Luma recorders are compatible with Control 4, Crestron, RTI, g! & URC.
                                                                 Smart Search
Find smart motion events at any time – even after events have occurred. With Smart Search, users can now search for a line crossing or intrusion box event on video after it's already been recorded! Each event shows separately on the timeline, while the line cross or intrusion box are set at the time of search, depending on what you're looking for.