Revox StudioArt P100 Passive Loudspeaker
Product description
Revox StudioArt P100 Passive Loudspeaker
"For first-class stereo sound"
The P100 Room Speaker is the tailor-made and wired addition to the active speaker A100 ( can only be operated in conjunction with an A100 ). As an excellent passive speaker, the StudioArt P100 likes to play big and enriches your sound world with a perfect stereo experience. Can also be integrated into a multi-room system together with the A100. Of course in the same fine design and in the same build quality as the A100.
Features
- Compact Passive Speaker To Complement The A100 To A Stereo System
- True Studio Sound Quality
Combinations
Enter at the top, expand on a high level
A Revox StudioArt system grows with your demands – if you wish, into every room in your home. The number of possible combinations is virtually endless. With the Revox StudioArt multi-room system, you enjoy all integrated sources throughout your home, in the configuration and place of your choice.
Extremely convenient for controlling your StudioArt system: the clearly structured and very easy to operate Revox StudioArtapp ( IOS or Android ) – free of charge in the app store.
Possible combinations of StudioArt products: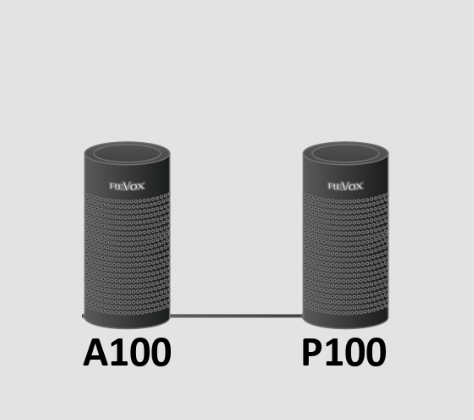 A100 Paired with P100: A100 as a set with P100 – connected by a speaker cable to form a stereo combination.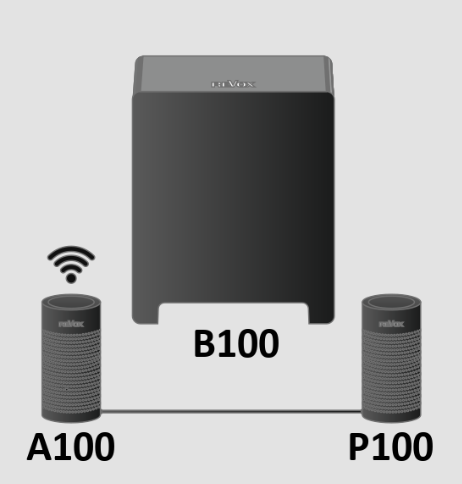 An Attractive Combination: A100 with P100 plus B100: Powerful, sonorous and a thoroughly compact solution.
Specifications
H x Ø: 8.7" x 3.9"
Color: black or white
Speaker: 1 x Ø 70 mm full range
Frequency Range: 52Hz...20kHz ( -3dB )
Sound Pressure: max. 95dB/ 1m
Performance: 1 x 20W mono, 2 x 20W stereo with additional passive speaker
Sources: Analog In ( Ø 3,5mm ) , Bluetooth, AirPlay 2, DLNA, iRadio, Tidal, Deezer, Spotify
Input/Output:
1 x 15V DC/4A
1 x Ethernet
1 x Analog Input
1 x Speaker Output
1 x USB (Service)
Battery: 7 hours mono, 5 hours stereo wireless connection to other STUDIOART speakers
Included: Connection cable
Dimensions: 3.9" ( L ) x 8.7" ( H ) x 3.9" ( W )
Weight: 1.7 lbs
- Product Documentation -
Revox StudioArt P100 User's Manual
Revox StudioArt P100 Quick Reference Quick