Shunyata Research Venom HC v2 Power Cable C19 1.75 meter Custom
Product description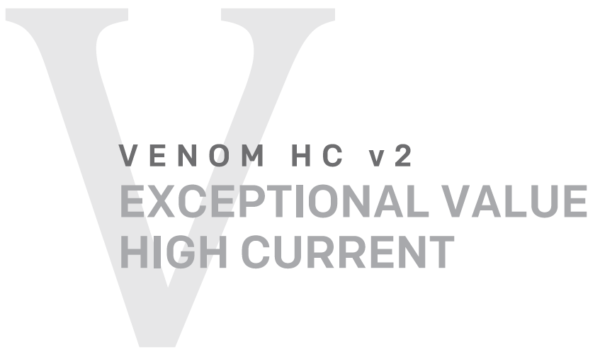 Shunyata Research invests heavily in research and development, affording even our least expensive products the quality and performance that have made our reference products worldwide standard bearers. Venom HC v2 power cords are engineered to deliver on Shunyata's promise of exceptional value and performance.
The Venom HC v2 is the descendant of the Venom-3 which The Absolute Sound voted as "One of the 30 Best Values in all of Audio".  The Venom HC v2 comes equipped with 10 gauge OFE power conductors for excellent current delivery.  The fluorocarbon dielectrics are usually only found on much more expensive power cables providing clarity and excellent low level resolution.  
The Custom version of the Venom HC v2 can be made with a variety of different connects and in any length desired.
The Venom HC v2 with its 10 gauge conductors is highly recommended for Shunyata Research's power conditioners and for high power power amplifiers.  Preamplifiers, CD player, DACs and other source components are well served by Shunyata Research's Venom V10 NR power cords. The Venom V14 cable are available the mini-power-connectors that are so commonly used with today's TVs and other consumer electronics.  The Venom HC v2, Venom V10 NR and Venom V14 Digital provide a complete power system for any modern entertainment system.
Listeners will experience earth-shaking low-frequency performance from even the highest-current amplifiers as well as dynamic contrasts unheard of outside of a live event.  More than any other design parameter, Shunyata Research's skill in eliminating resistance and maximizing peak-current delivery is unmatched.
Technology

Dynamic Transient Current Delivery
DTCD™ Analysis is a technique that measures instantaneous current through low impedance electrical conductors and contacts.  Shunyata Research uses it to optimize the design, specification and construction of parts and materials to ensure maximum current delivery performance.  Each part, conductor, noise circuit and material allows for maximum throughput of instantaneous current.
OFE Alloy 101
Shunyata Research uses only the highest purity of copper available for the production of its wire products.  OFE Alloy 101 or C10100 is the highest grade of copper with a minimum 99.99% purity and a conductivity rating of 101% IACS. OFE stands for oxygen-free electrolytic and supersedes the term OFHC (oxygen-free high conductivity).  C10100 is the only grade of copper that comes with a written certification of purity.
Certified by ASTM F68 C10100

Crystal Clear Transient Detail.
Fluorocarbon dielectrics are usually only found in wire used in the aerospace industry, satellites and only the most expensive audiophile cabling. It has special electrical characteristics; very low dielectric absorption, high dielectric strength and exceptional heat resistance.  When used in audio and power cables is reduces the perception of dynamic compression and it improves sonic low-level resolution and clarity.
Audiophile Grade Connectors
Shunyata Research audiophile-grade connectors are made from a high-grade brass-copper-zinc alloy that can accept the very large 08 gauge conductors.  The polycarbonate head-shells provide a lifetime of longevity.
Hermetically Sealed
The connectors are hermetically sealed with an electrically inert compound that protects the contacts and wires from corrosion.  The compound also ensures that the wires cannot become loose, fray or pull out from the head shell.  This guarantees a lifetime of reliable performance that does not degrade over time.
KPIP™ Processing
Shunyata Research's proprietary Kinetic Phase Inversion Process includes four days of continuous KPIP™ processing to dramatically reduce burn-in time and significantly improve sonic performance, delivering a relaxed and life-like presentation.
Specifications
Conductors
Wire: 10 gauge OFE
Dielectric: fluorocarbon

Connectors
Solid brass AC contacts (not folded metal)
Nickel Plating for Corrosion Protection
Solid-brass IEC contacts
Superior Contact Grip

Safety Assurance
Continuity and Polarity Tests – by two technicians
HiPOT Tests for each cable
Cable spools tested for insulation breakdown @ 4,000 VAC

Dimensions
Length: 1.75 meters
Contact us to inquire how you can finance your purchase through our partner,
.