Constellation Inspiration Integrated 1.0 Amplifier
Product description
Plenty of Power!
The Constellation Audio Inspiration Integrated 1.0 is the newest member of Constellation Audio's most affordable Inspiration Series, and joins its preamplifier and amplifier line-mates in delivering the performance that is expected from Constellation Audio at a more affordable price. Delivering plenty of power, 100 wpc into 8 Ohms (and twice that into 4), a full array of balanced and single-ended inputs and outputs, a home theater bypass, and an included headphone amp, the Inspiration Integrated 1.0 provides the easiest entrance into the world of Constellation Audio.
Custom Designed Binding Posts
Like all Constellation Audio products, the Inspiration Integrated 1.0 takes full advantage of shared family technologies. Its design is based on the award-winning Inspiration Preamp 1.0 and Stereo 1.0, combining the preamplifier and half of the stereo amplifier on a single chassis. The custom-designed binding posts are the same binding posts used on our Performance Series Centaur and Reference Series Hercules.
*All Unit are Available in Black at an Additional Cost*
Constellation Inspiration Integrated 1.0 Amplifier User's Manual
 Specifications
Inputs: 2 XLR stereo, 2 RCA stereo, USB (for control)
Outputs: 1/4-inch/6.2mm headphone jack, 12-volt trigger
Power Output:
100W, 8Ω (1 kHz @ 1% THD+N)
200 W, 4Ω (1 kHz @ 1% THD+ N)
Gain: 31 dB
Output Noise: -84 dB, A-weighted
Damping Factor (8Ω load): 64
THD+N:
<0.001%, 20 Hz - 20 kHz @ 2V out
<0.1%, 20 Hz - 20 kHz @ 10V out
Frequency Response: 10 Hz to 100 kHz, +/- 0.5 dB
Signal-to-Noise Ratio: >-105 dB, A-weighted
Input Impedance (balanced): 20K ohm
Input Impedance (single-ended): 10K ohm
Output Impedance: < 50 ohm
Volume Control Resolution: 0.5dB from 0dB to -90 dBFS
Weight: 25 lbs
Dimensions: ( W ) 17" x ( H ) 5.5" x 19" ( D )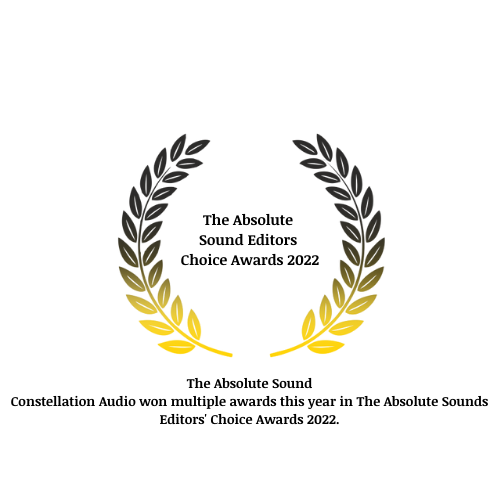 Contact us to inquire how you can finance your purchase through our partner,
.
$19,000.00