Cabasse The Pearl Active Subwoofer w/Satellites Amplifier (Each)
Product description
A Compact Design in Harmony with it's Passive Speakers
The Pearl Sub delivers incomparable features to its Lifestyle speaker range (iO3, Riga 2 and Baltic 5) such as phenomenal dynamics, patented DEAP technology (optimizing the digital signal from Cabasse's speakers) and the ability to connect the speakers to popular streaming services.
A world first! This a high-resolution active connected subwoofer is capable of delivering maximum dynamics, with deep bass and sound optimized for each speaker (DEAP technology), auditorium-quality room correction and high-resolution streaming adapted to its Lifestyle iO3, Riga 2, and Baltic 5 speakers!
One of a Kind! 
The Pearl Sub: The first high-definition 2.1-connected active subwoofer in the world.
It was born from the desire to create a 2.0 Hifi system, eliminating the need for separate amplifiers and subwoofers. It's the centerpiece of the new Lifestyle range, incorporating optimized profiles of the iO, Riga and Baltic satellite speakers.
Even More Dynamics & Precision
The Pearl Sub is equipped with a 25 cm woofer with a linear excursion of up to 30 mm, powered by 2000 watts (peak) for a deep bass level.
The result? Spectacular acoustics with exceptional bass dynamics.
Deep Technology
The Pearl Sub enables you to get the most out of its speakers via its patented DEAP technology, which optimizes the digital signal according to which ones you have (Baltic, Riga or iO). 
This feature is easily accessible in 1 or 2 taps with the free StreamCONTROL application available for IOS & Android.
The Pearl Sub also offers listeners a patented CRCS automatic room correction system for optimized acoustics whatever the listening environment.
A Compact & Streamlined Design
The Pearl Sub has a refined and suspended design and sits on a rough-cut, folded, and chrome-plated steel base to hold the subwoofer in the air. 4 Successive coats of matt paint enables a perfect spherical rendering.
At the back, four carbon speaker connectors allow you to power speakers with up to 300 watts of nominal power. 
A Connected Subwoofer with Multi-Source & Multi-Room Capabilities
The Pearl Sub is equipped with Bluetooth and Wifi connectivity. It integrates perfectly into the Cabasse StreamCONTROL multi-room system.

A Bluetooth Remote Control with Style
The Pearl Sub comes with its own streamlined and ergonomically designed Bluetooth remote control with a refined finish.
It allows you to easily and intuitively control the subwoofer: adjust the volume by rotating the ring, select the input type, play and pause, and select a radio station or your favorite piece of music, etc.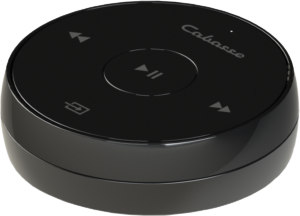 Technical Specifications
Sound
Ways: 1
Woofer: 1 x 25 cm/10″ HELD 
Amplification
Left Channel: 300 W RMS / 600 W peak
Right Channel: 300 W RMS / 600 W peak
Bass: 1000 W RMS / 2000 W peak
Connectivity
Ethernet – WiFi – Bluetooth – USB
SPDIF Optical – RCA Analog
Audio Formats:MP3 – AAC -WMA – AIFF – FLAC – ALA
Multiroom:Hi-res Multiroom
Compatibility: iO 1/2/3, Riga 1/2 and Baltic 4/5, Minorca MC40, Murano
Dimensions
338 x 320 x 368 mm (13″ x 12.5″ x 14.5″)
Weight: 44 lbs.