Wattbox Uninterruptible Power Conditioner | 2000-8, (8 Outlets)
Product description
WattBox® Uninterruptible Power Supply - 8 Outlets | 2000 VA
The WattBox® Uninterruptible Power Supply (UPS) is packed with features to help keep vital equipment up and running in the case of power loss. This Pure Sinewave UPS provides 8 outlets of battery backup and full automatic voltage regulation (AVR) to prevent costly interruptions, as well as a 'Graceful Shutdown' of a connected PC via USB port. With this model, you'll get a 2000 VA capacity, up to 5:30 min of battery backup at full load (1560 watt), and 15:30 minutes of battery backup at 45% load (720 watt).
Max Load/Mounting - This product has a 1710 watt Max Load (20-amp plug) and is deeper than its predecessor, requiring a 24-in rack for mounting.
Compatibility - This product is not compatible with EP-400-NMC.
Automatic Voltage Regulation ( AVR ) Technology
Keep equipment operating safely and protect against voltage fluctuations with automatic voltage regulation (AVR). This innovative technology prevents any voltage drops below 112 volts and any spikes or surges above 128 volts. This unit uses Boost/Buck Topology, which actively corrects brownouts and over-voltages to usable levels, while maintaining a full battery charge in case of power failure.
Four Critical Load Outlets
Prioritize which components are more critical for operation during long power outages. This unit has four outlets designed for these critical components by preserving extra battery uptime. The amount of time varies on load draw of equipment.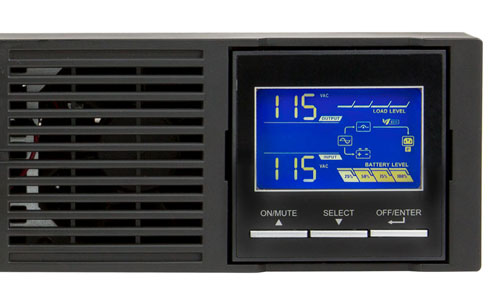 Large Multifunction LCD Readout
The multifunction LCD readout provides ready access to power/battery condition vitals such as Runtime and Load. Plus, it incorporates an auto-dimming function, which helps minimize distractions when in use.
Custom Installation
With included PC software, RS-232 port, and USB port, you can configure this UPS to your liking, allowing for a true custom installation.
EMI/RFI Shielding
Protecting against electromagnetic interference and radio frequency signals helps prevent line noise or "humming" that can occur over audio electronics.
Graceful Shutdown
With Graceful Shutdown, you can fully protect your computer system, components, peripherals, and data via USB port. In the event of a power loss, this UPS automatically instructs the computer to save your files and then safely shuts it down in an intelligent and orderly matter, avoiding costly damage to critical components.
Best-in-Class Warranty
With this product, you receive a 5-year warranty on the chassis and a 2-year warranty on the replacement battery. This length of warranty is unmatched in the industry, so you won't find this level of protection on other UPS units.
Auto-Rechargeable and Replaceable Battery
This UPS is designed with user-replaceable batteries, so the battery needed for this unit can easily be found at a local battery store.
Battery Recharge Time

 
4 Hours

Battery Runtime @ Full Load

 
5.2 Minutes

Battery Runtime @ Half Load

 
N/A

Battery Size

 
12V/9AH

Current Rating

 
16A

Energy Dissipation ( Joules )

 
1080

Outlets

 
8

Overload Protection

 
Yes

Battery Type

 
Sealed Lead Acid

Color

 
Black

Features

 
Multifunction LCD Diagnostic Display Includes: Output Voltage,
Battery Backup Time Limit, Battery Total Amp Hours, Exit Setup, ECO mode,
Buck Mode, Boost Mode, Battery Mode, Standby Mode, backup time,
configuration info, fault/warning info, Mute, Output,

Power Rating

 
1710 watt ( Max )

Line Voltage

 
110 / 120V AC

Rack Mountable

 
Yes

Rack Spacing

 
2U

Product dimensions ( W x H x D )

 
17.24" x 3.46" x 20.08"

Product weight

 
54.80 lbs
5-Year Limited Product Warranty
This WattBox® product has a 5-Year Limited Product Warranty and a 5-Year Network Connectivity Warranty. The 5-Year Limited Product Warranty includes parts and labor repairs on all components found to be defective in material or workmanship under normal conditions of use. This warranty will not apply to products that have been abused, modified, or disassembled. Products to be repaired under this warranty must be returned to the specified shipping location or a designated service center with prior notification and an assigned return authorization number ( RA ).
2-Year Limited Battery Warranty
2 years Limited- Batteries will be free of defects in design, material, or workmanship. SnapAV will replace any defective battery.
Connected Equipment Guarantee Amount
$50,000