Binary 4K HDR Audio Extractor
Product description
This simple and cost-effective audio extractor is your new favorite problem solver. Supporting up to [email protected] 4:4:4 content, it can be used to extract both 2ch and multichannel audio formats from any HDMI input signal. Analog and optical outputs make for convenient audio loops into your audio devices.

4K UHD
HDR60
4K60 444

18 Gbps
HDCP
Full 4K HDR Content
Finding the right equipment for a 4K HDR system has never been more difficult. Our Binary B-260 extractor can handle the full 18Gbps of bandwidth for the latest HDR formats, including Dolby Vision 60Hz, HDR10, HDR10+, and HLG.
Ultra-Small Form Factor & Easy Mounting
A small form factor means you can mount this extractor almost anywhere with ease, allowing you to spend more time delivering the best possible experience for your customer.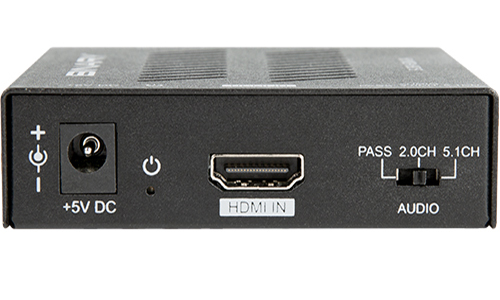 Audio EDID Control
Select Audio EDIDs based on desired source and display functionality. Lock your content to 2.0ch, 5.1ch, or Passthrough.
Analog & Digital Audio Outputs
Extract audio signals from any HDMI compliant source to digital optical or analog stereo audio outputs. Multichannel audio can be pulled from the SPDIF output, and 2ch audio can be pulled from the analog outputs. Please note that this device will not de-embed & down-mix multichannel formats to 2 channel
Built-In ESD and Surge Protection, Thermal Reliability
Intelligent circuit design, perfected through extensive hardware testing, has resulted in a robust product with excellent ESD and surge protection that exceeds CE Level 3 standards. During development, every connection was tortured with an ESD gun and a lightning simulator. They were hit with ESD at 15KV and surges up to 1600V. More importantly, though, they each lived to tell about it!
2-Year Limited Warranty
This Binary™ product has a 2-year limited Warranty. This warranty includes parts and labor repairs on all components found to be defective in material or workmanship under normal conditions of use. This warranty will not apply to products that have been abused, modified or disassembled. Products to be repaired under this warranty must be returned to Snap One or a designated service center with prior notification and an assigned return authorization number (RA).
$106.95