Chord Electronics Ltd. Hugo 2 Portable DAC/Headphone Amplifier
Product description
The Best DAC Headphone Amplifier !
Setting up the Hugo 2 is pretty simple. A 2-Volt charging adapter is included with the unit and allows you to fully charge your Hugo 2 in 4 hours, providing around 7 hours of playback time. If the power button is glowing blue it means that the battery is 80%-100% charged. Green is 50-80%, orange is 20-50%, and red is 2-20%. When the Hugo is about to die, the power button flashes red.
The Hugo 2 also has an impressive power management system. The easiest way to ruin a set of lithium batteries is overcharging them. After 24 hours of charging, the Hugo 2 will put itself in desktop mode where it will not use battery power. Also, when using it with no power supply plugged in, it will turn itself off after 15 minutes of inactivity, in order to conserve battery.
To select the input you want to use, simply toggle through them on the Hugo 2 by pressing the input button. The input button works similarly to the power button/battery indicator and uses color codes for each input.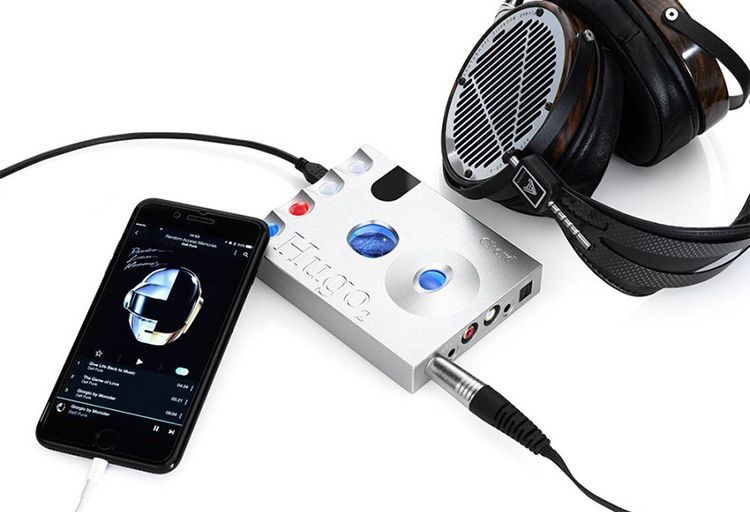 If you are using the Hugo 2 as a portable headphone amp the rolling volume button follows a color scheme as well, so at a glance, you can tell where you are. It will go from black at the low end to red, yellow, green, blue, purple and finally white as you open up the volume.
When it comes to options for shaping the sound itself, the Hugo 2 has two really unique features. The first is a set of filters that can provide some needed warmth to a harsh sounding recording. Again, the lights tell you where you are in the filter section. They go from pure with no filtering, to a minor roll off of the top end, to one that increases warmth, and finally to one that rolls off the top and increases warmth.
Details & Specifications
Long battery life of 7 hours allows you to play music throughout your day. Automatic recharging options for charging in just 4 hours.
The sleek, newly designed aluminum case includes four spherical control buttons that illuminate with color-coding information for further functionality. Also includes a full-function remote control.
The latest FPGA technology and advanced WTA (Watts Transient Aligned) filters have been introduced in the Hugo 2 to improve timing accuracy, noise reduction, headphone amp power, and dynamic range.
Offers four digital inputs (optical, coaxial and HD USB) plus extended-range Bluetooth, with high-resolution file playback up to 768kHz and up to DSD512 (Octa DSD), via its HD USB input. Analogue outputs include 2x RCA, plus 3.5mm and 6.35mm headphone outputs.
A four-function switch filter offers the user to shape the frequency, bringing warm and soft or transparent and incisive presentations, giving additional flexibility and user control.
Hugo 2 keeps the popular digital crossfeed function of the original while offering three operation modes from its dedicated control sphere. The system cross-feeds a partial 400 millisecond-delayed and shaped signal from each left and right output to the opposite channel.
| | |
| --- | --- |
| Roon Status | Roon Tested |
| Signal To Noise Ratio | 126 dB (A-Weighted) |