Franco Serblin Ktêma FloorStanding Loudspeaker
Product description
The Cabinet is a rigid, triple arch-shaped structure. The two lateral front cheeks are concave, while the woofer compressor is convex.
The Tweeter is a well-established and time-proven 28mm soft-dome unit, created by Ragnar Lian, one of the greatest Danish masters of transducer design.
The Midrange array consists of two custom-made 4in units in a step-compensated baffle, in a cardioid acoustic-resistance configuration, for the most accurate reproduction of the musical perspective.
The Woofers are custom-made 9" metal cone, piston performance optimized units, in a compression-controlled and room-interfaced configuration.
The Crossover is a mutational variable slope, coherent spatial radiation design.
Yter pure Silver-Palladium mono-wiring used throughout.
Frequency Response: 26 Hz - 33 Khz
Nominal Impedance: 4 ohm ( minimum 3, 2 ohm at 70 Hz )
Sensitivity: 92 dB/W/m
Minimum Recommended Amplifier Power: 20 watt per channel
Net Weight: 242 lbs for Pair
Shipping Weight & Dimensions: 273 lbs for Pair, 20.5" ( W ) 22.5" ( D ) 43.5" ( H ) 
Finishing: High gloss piano black, hand-polished aluminium top & bottom Satin Sycamore, hand-polished aluminum top & bottom.
Contact us to inquire how you can finance your purchase through our partner,
.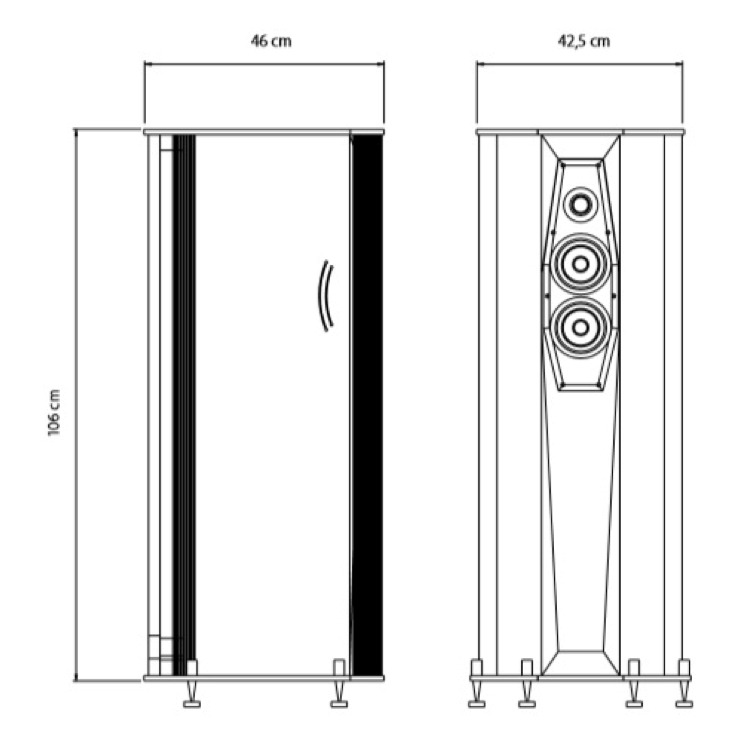 $40,000.00